This is a list of all minor characters in the Tomba! series. This list contains characters who doesn't have enough background information to have their own articles.
Tomba!
Dwarf Elder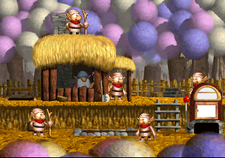 Dwarf Elder is the elder of Dwarf Village and only makes his appearance in the first game. He tells Tomba the story of the Evil Pigs and then gives him the Blue Pig Bag which is used to capture the free the Dwarf Forest from its curse.
He also appears in several secondary events in the village.
Grandpa
Grandpa is Tomba's grandfather. The story of the first game circulates around his bracelet, that Tomba loses during an ambush of Koma Pigs. The grandfather is only mentioned when the bracelet is mentioned. It is mentioned in the manual that he is deceased.
Tomba! 2: The Evil Swine Return
Ad blocker interference detected!
Wikia is a free-to-use site that makes money from advertising. We have a modified experience for viewers using ad blockers

Wikia is not accessible if you've made further modifications. Remove the custom ad blocker rule(s) and the page will load as expected.