Mizuno is a character found in both games. She is a witch with azure hair wearing a purple robe and a pointy hat with the same color. She is voiced by Elaine A. Clark.
She can be found in the Village of All Beginnings in the first game and in the Donglin Forest in the second game.
Biography
Tomba!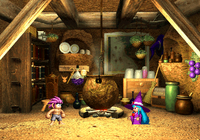 She can be found inside a house in the Village of All Beginnings after The Cute Witch event has been activated. Tomba helps her out to find her lost belongings and then bring the needed ingredients to create a new weapon for him.
Tomba! 2: The Evil Swine Return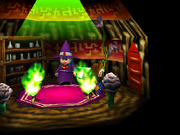 This time she can be found in a room in the upper right section of the Donglin Forest with a crying door. She is once again missing ingredients and asks Tomba to find them for her. In return, he gets protection against fire and ice damage.
Events
The events down below are all secondary with the exception of "Invisible Mirror", which is additional.
Tomba!
Tomba! 2: The Evil Swine Return