Featured article of the week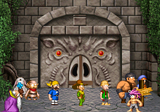 Seven Friends is an event in Tomba!. This is the penultimate primary event in the game. Directly after this event has been cleared, Tomba will face the final boss of the game without any warnings.
The objective is to gather seven friends of Tomba from different locations in order to open the gate leading to the final Evil Pig.
News on the Tomba! Wiki
1/19/2014

I have created a petition proposing that Sony acquire the rights to the Tomba! series. I would be very grateful if you would sign it. Check it out here. Thank you very much. --Peace, MarioStrikerz Talk Page 19:09, January 19, 2014 (UTC)
---
5/1/2015

Besides some minor layout changes and some new people contributing to this wiki, there hasn't been much going on here. But I can at leased thank everyone who has been helping out and providing content for the wiki. // WikiaPhoenix talk 15:27, May 1, 2015 (UTC)

11/22/2014

Wanted to thank Kahran042 for discovering some unused items in the first game. They can now be found at List of unused items. // WikiaPhoenix talk 22:28, November 22, 2014 (UTC)