Featured article of the week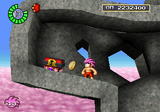 Flower Seeds is an event in Tomba!. This event is a follow-up from the A Lost Child event where the Dwarf child wants to plant flowers in the village.
The objective is to bring Flower Seeds from the Watch Tower to the Dwarf child in the Dwarf Village.
News on the Tomba! Wiki
1/25/2016

RadSpyro and Kahran042 has been providing the wiki with images and Japanese names, respectively, for the last couple of days, which is really appreciated. Thanks, guys!
// WikiaPhoenix talk 18:50, January 25, 2016 (UTC)

5/1/2015

Besides some minor layout changes and some new people contributing to this wiki, there hasn't been much going on here. But I can at leased thank everyone who has been helping out and providing content for the wiki.
// WikiaPhoenix talk 15:27, May 1, 2015 (UTC)

11/22/2014

Wanted to thank Kahran042 for discovering some unused items in the first game. They can now be found at List of unused items.
// WikiaPhoenix talk 22:28, November 22, 2014 (UTC)