Featured article of the week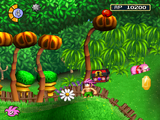 Biting Plant Flower is an event in Tomba!. This event is activated by collecting a Biting Plant Flower from a Biting Plant, but it can be done in two different ways.
The objective is to obtain a Biting Plant Flower and find a way to use it.
News on the Tomba! Wiki
1/25/2016

RadSpyro and Kahran042 have been providing the wiki with images and Japanese names, respectively, for the last couple of days, which is really appreciated. Thanks, guys!
// WikiaPhoenix talk 18:50, January 25, 2016 (UTC)

5/1/2015

Besides some minor layout changes and some new people contributing to this wiki, there hasn't been much going on here. But I can at leased thank everyone who has been helping out and providing content for the wiki.
// WikiaPhoenix talk 15:27, May 1, 2015 (UTC)

11/22/2014

Wanted to thank Kahran042 for discovering some unused items in the first game. They can now be found at List of unused items.
// WikiaPhoenix talk 22:28, November 22, 2014 (UTC)
Ad blocker interference detected!
Wikia is a free-to-use site that makes money from advertising. We have a modified experience for viewers using ad blockers

Wikia is not accessible if you've made further modifications. Remove the custom ad blocker rule(s) and the page will load as expected.