Featured article of the week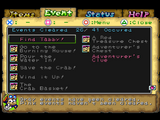 Events are a major part of the Tomba! series. By talking or interacting with some people or items in the series can active an event. After the event has been activated, it can be cleared. If all the primary and secondary events in the second game are cleared, an extra ending cutscene will play before the credits start rolling.
News on the Tomba! Wiki
1/25/2016

RadSpyro and Kahran042 have been providing the wiki with images and Japanese names, respectively, for the last couple of days, which is really appreciated. Thanks, guys!
// WikiaPhoenix talk 18:50, January 25, 2016 (UTC)

5/1/2015

Besides some minor layout changes and some new people contributing to this wiki, there hasn't been much going on here. But I can at leased thank everyone who has been helping out and providing content for the wiki.
// WikiaPhoenix talk 15:27, May 1, 2015 (UTC)

11/22/2014

Wanted to thank Kahran042 for discovering some unused items in the first game. They can now be found at List of unused items.
// WikiaPhoenix talk 22:28, November 22, 2014 (UTC)
Ad blocker interference detected!
Wikia is a free-to-use site that makes money from advertising. We have a modified experience for viewers using ad blockers

Wikia is not accessible if you've made further modifications. Remove the custom ad blocker rule(s) and the page will load as expected.